Samsung WF60F1R2E2WDUA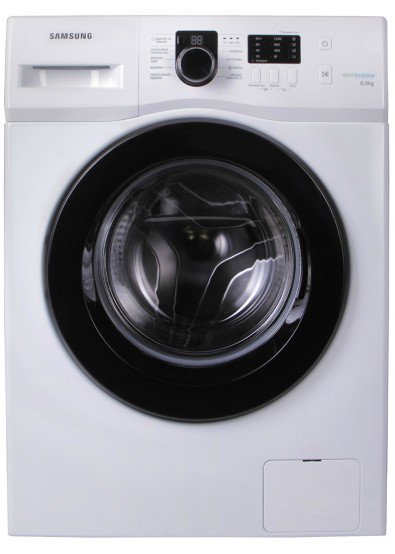 Samsung WF60F1R2E2WDUA
Narrow 85x60x45 cm
6 kg
Bubble Technology
A ++
Volt Control System
The best protection against sharp voltage fluctuations. Thanks to the innovative technology, the machine operates safely with voltage fluctuations in the network in the range of ± 25%.

Scheme protection
Ceramic heaters prevent the formation of scum. Scum accumulation results in more power consumption and requires the use of special cleaning agents to dissolve calcium compounds. Heated ceramic heaters increase the efficiency of using electricity, which will reduce your bills.

Cell drum for careful washing
No more damage to the fabric. For most common washing machines, it is typical to get tissue fibers into the drum holes and, consequently, to damage them during the washing process. But thanks to the unique design of the Diamond Drum cell drum, the apertures in it are 43% smaller than in conventional drums, and they are deeply in diamond-shaped holes ("honeycombs"), which prevents the cloth from being stuck and damaged.

Great boot hatch
The door is enlarged to 460 mm for easier use. The diameter of the loading hatch is 330 mm, which allows you to easily load and retrieve large things such as blankets, sheets and so on.

Convenient display
Convenient display with rotary knob Jog Dial, LED backlit and touch buttons allows you to set the desired program and to monitor the washing process without difficulty.
Compatible washing machines